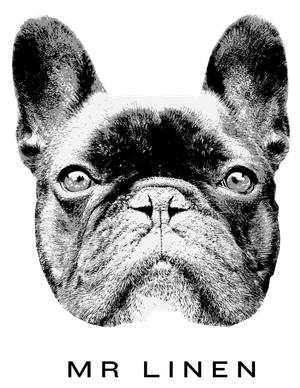 set a course for the star factory: the mr linen story
Mr. Linen was born April 2nd, 2016 in Houston, Texas.  The runt of a three puppy litter, he was adopted at only 3 months old, given the name "Larry" and moved to Austin with his new family.  The young shy pup was not quick to come out of his shell.  He was afraid of even crossing a threshold from a tiled floor to a carpeted floor.  What began to build young Larry's confidence was music.  
Larry's parents owned and operated a busy recording studio in Austin, where Larry was exposed to all kinds of music and the wild world of musicians.  At age 4 months he appeared in his first music video and from that moment he was destined for a life in show business.  He began spending hours watching other famous dogs on YouTube; Lassie, Rin Tin Tin, Beethoven, Pluto, and Toto.  However, after seeing the film "Old Yeller", he decided that his true calling was music and he would never act again.   
Growing up with his parents and their musician friend's playlists, he was exposed to the pop and R&B classics of the 70's, 80's and 90's and his large ears were always quick to pick out the Yacht Rock (it may have been all the high pitched flutes?).   
Larry would spend his days laying underneath the large pecan trees behind the studio, munching on pecans and dreaming up the melodies and rhythms that would become his debut album.   
He wanted his music to cross between Yacht Rock, Pop and R&B and most importantly he wanted humans to LOVE it.  Humans after all have the treats and the scratches.   
Being a Frenchie, covered in fur and with no snout; the hot Austin summer is not easy.  But under those pecan trees, Larry would stay cool.  He thought about what humans do to stay cool in the summer and that's when it hit him; "They wear Linen!"  I'll become MR LINEN!"  
Larry formed MR LINEN by taking his ideas into the studio.  He collaborated with Andre Cantave, Dave Madden and David Messier at Same Sky Productions in Austin TX to create "Stay Cool"; a collection of 9 original songs that take the listener on a sonic journey through the greatest Pop Music and Yacht-Rock productions of our times.    
The songs are steeped in irreverent charm with topics varying from boats (that go fast), learning kung fu (in outer space) and falling head over heels in love with a girl who makes amazing tacos (I mean, haven't we all?) MR LINEN encourages that you pull up a beach chair, a frosty cocktail (such as a Dirty Banana), and always #StayCool.